Rating: 🌟🌟🌟🌟🌟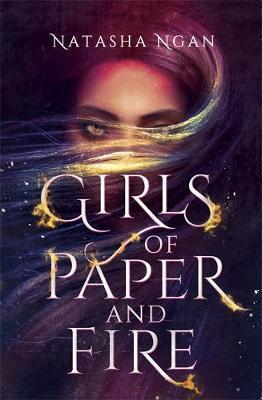 Synopsis: Each year, eight beautiful girls are chosen as Paper Girls to serve the king. It's the highest honor they could hope for…and the most cruel.
But this year, there's a ninth girl. And instead of paper, she's made of fire.
In this lush fantasy, Lei is a member of the Paper caste, the lowest and most oppressed class in Ikhara. She lives in a remote village with her father, where the decade-old trauma of watching her mother snatched by royal guards still haunts her. Now, the guards are back, and this time it's Lei they're after–the girl whose golden eyes have piqued the king's interest.
Over weeks of training in the opulent but stifling palace, Lei and eight other girls learn the skills and charm that befit being a king's consort. But Lei isn't content to watch her fate consume her. Instead, she does the unthinkable–she falls in love. Her forbidden romance becomes enmeshed with an explosive plot that threatens the very foundation of Ikhara, and Lei, still the wide-eyed country girl at heart, must decide just how far she's willing to go for justice and revenge.
TW: violence and sexual abuse.
---
Could there have been a better book to open my 2019 reading? Absolutely not.
This book, in my opinion, was perfection.
An Asian fantasy with oppressed, abused young women who step up and take their lives back, even in the most dire of situations, with a beautiful f/f relationship, this book had everything I love in fantasy. It was thoroughly entertaining and had me gripped to its pages from the very beginning – I honestly didn't want to put it down! It's a shame I only have time to read on my commute, because otherwise I think I would have read it in one sitting.
I loved the social system:
Paper Caste: Fully Human
Steel Caste: Half Human, Half Demon
Moon Case: Fully Demon
This provided a class system away from race and nationality, but brought an equivalent that we can compare to in the real world. Paper Caste are seen as the lowest in society, oppressed and discriminated against highly by the Moon Caste. Some in the Paper Caste submitted to this, and others did not…
The thing I loved most about this book was the wide variety of characters; their personalities and backgrounds painted a technicolor rainbow, and it was a delight to read about each one of these women. One of my particular favourites was Lill, the young Steel Caste maid assigned to look after Lei in Paper House. She was bubbly, naive and witty, and honestly made me laugh out loud on several occasions. Her energy translated onto the page beautifully.
I have to say that I thought this book was incredibly well-written. The character developments were terrific, and the only thing I can ask of in the next instalment to the series, is even more world building. Whilst we got enough for this book to work, I would ideally like this to be built upon even more to create an fully immersive world, complete with all of the crazy politics and intriguing magic system that we started to get a sense of in this book.
I have so many questions left to be answered.
AND BOY, THAT CLIFFHANGER…
I sure do hope we don't have to wait too long for Book 2!
I'm so glad I decided to open 2019 with this book, my only regret is that I didn't read it when it was first published!
---