I was going to do a generic "Most Anticipated Releases of 2019" post, but I realised that there are SO MANY books that I am excited about this year, that it would have taken you a year to read the list!
So instead I shall be doing an "Anticipated Releases" post on a monthly basis, starting here, in January…
---
The Wicked King by Holly Black
Publication Date: January 8th
Publisher: Hot Key Books
Synopsis:
You must be strong enough to strike and strike and strike again without tiring.
The first lesson is to make yourself strong.
After the jaw-dropping revelation that Oak is the heir to Faerie, Jude must keep her younger brother safe. To do so, she has bound the wicked king, Cardan, to her, and made herself the power behind the throne. Navigating the constantly shifting political alliances of Faerie would be difficult enough if Cardan were easy to control. But he does everything in his power to humiliate and undermine her even as his fascination with her remains undiminished.
When it becomes all too clear that someone close to Jude means to betray her, threatening her own life and the lives of everyone she loves, Jude must uncover the traitor and fight her own complicated feelings for Cardan to maintain control as a mortal in a Faerie world.
---
The Binding by Bridget Collins
Publication Date: January 10th
Publisher: The Borough Press
So I've actually already read this one and believe me when I tell you you HAVE to read it immediately! It's one of the best books I've ever read, it's already my Book of the Year for 2019. The more I think about it, the more I love it and want to re-read it over and over again.
Synopsis:
Imagine you could erase grief.
Imagine you could remove pain.
Imagine you could hide the darkest, most horrifying secret.
Forever.
Young Emmett Farmer is working in the fields when a strange letter arrives summoning him away from his family. He is to begin an apprenticeship as a Bookbinder—a vocation that arouses fear, superstition, and prejudice among their small community but one neither he nor his parents can afford to refuse.
For as long as he can recall, Emmett has been drawn to books, even though they are strictly forbidden. Bookbinding is a sacred calling, Seredith informs her new apprentice, and he is a binder born. Under the old woman's watchful eye, Emmett learns to hand-craft the elegant leather-bound volumes. Within each one they will capture something unique and extraordinary: a memory. If there's something you want to forget, a binder can help. If there's something you need to erase, they can assist. Within the pages of the books they create, secrets are concealed and the past is locked away. In a vault under his mentor's workshop, rows upon rows of books are meticulously stored.
But while Seredith is an artisan, there are others of their kind, avaricious and amoral tradesman who use their talents for dark ends—and just as Emmett begins to settle into his new circumstances, he makes an astonishing discovery: one of the books has his name on it. Soon, everything he thought he understood about his life will be dramatically rewritten.
---
The Winter of The Witch by Katherine Arden
Publication Date: January 10th
Publisher: Del Rey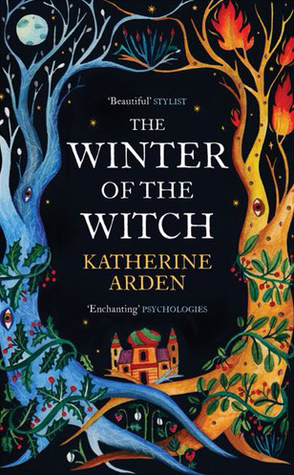 Synopsis:
Moscow has burned nearly to the ground, leaving its people searching for answers – and someone to hold accountable. Vasya finds herself on her own, amid a rabid mob that calls for her death, blaming her witchery for their misfortune.
Then a vengeful demon returns, renewed and stronger than ever, determined to spread chaos in his wake and never be chained again. Enlisting the hateful priest Konstantin as his servant, turmoil plagues the Muscovites and the magical creatures alike, and all find their fates resting on the shoulders of Vasya.
With an uncertain destiny ahead of her, Vasya learns surprising truths of her past as she desperately tries to save Russia, Morozko, and the magical world she treasures. But she may not be able to save them all…
---
Once Upon a River by Diane Setterfield
Publication Date: January 17th
Publisher: Transworld Ltd.
Synopsis:
A dark midwinter's night in an ancient inn on the Thames. The regulars are entertaining themselves by telling stories when the door bursts open on an injured stranger. In his arms is the drowned corpse of a little child.
Hours later the dead girl stirs, takes a breath and returns to life.
Is it a miracle?
Is it magic?
Or can it be explained by science?
Replete with folklore, suspense and romance, as well as with the urgent scientific curiosity of the Darwinian age, Once Upon a River is as richly atmospheric as Setterfield's bestseller The Thirteenth Tale.
---
King of Scars by Leigh Bardugo
Publication Date: January 29th
Publisher: Orion Childrens (Imprint of Hachette)
Synopsis:
Nikolai Lantsov has always had a gift for the impossible. No one knows what he endured in his country's bloody civil war—and he intends to keep it that way. Now, as enemies gather at his weakened borders, the young king must find a way to refill Ravka's coffers, forge new alliances, and stop a rising threat to the once-great Grisha Army.
Yet with every day a dark magic within him grows stronger, threatening to destroy all he has built. With the help of a young monk and a legendary Grisha Squaller, Nikolai will journey to the places in Ravka where the deepest magic survives to vanquish the terrible legacy inside him. He will risk everything to save his country and himself. But some secrets aren't meant to stay buried—and some wounds aren't meant to heal.
---
Which new releases are you most looking forward to this month?