Rating: 🌟🌟🌟🌟🌟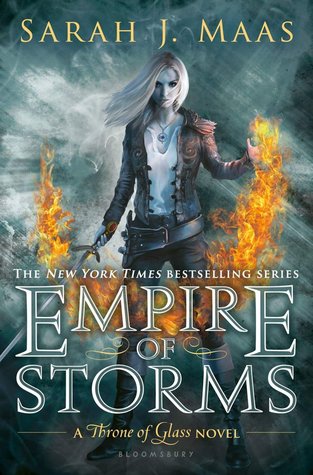 Synopsis:
The long path to the throne has only just begun for Aelin Galathynius as war looms on the horizon. Loyalties have been broken and bought, friends have been lost and gained, and those who possess magic find themselves at odds with those who don't.
With her heart sworn to the warrior-prince by her side, and her fealty pledged to the people she is determined to save, Aelin will delve into the depths of her power to protect those she loves. But as monsters emerge from the horrors of the past, and dark forces become poised to claim her world, the only chance for salvation will lie in a desperate quest that may mark the end of everything Aelin holds dear.
In this breathtaking fifth installment of the New York Times bestselling Throne of Glass series, Aelin will have to choose what—and who—to sacrifice if she's to keep the world of Erilea from breaking apart.
---
I know I say this every time I write a review of a Sarah J. Maas book, but seriously, WHY DID SHE LEAVE IT LIKE THAT?!
I need more, and I need it NOW.
I know there are issues with this. I hate Rowan and his possessive control over Aelin, and don't understand why every single character needs to have a romantic pairing, but Maas has a way of writing plot lines that suck you in and are just seriously addictive. I'm total trash for it, I don't even care.
Once again the drama has been kicked up yet another notch and once again we're left with a gaping hole where this book once was, a massive book hangover, and A YEAR LONG WAIT until we find out what the hell happens next.
I don't know if I'll survive.
Send help.
This next paragraph contains romantic interest spoilers, be warned…
I adore Lorcan and Elide and I will ship them to the end of the earth. The pairing between Manon and Dorian I feel is a bit unnecessary, I always felt like Manon was a fierce independent woman who doesn't need a man, but there we go. And can we just please spare a thought to that tragic, uncomfortable beach scene which I feel like everyone could have done without having to endure… ahem.
Anyway.
Crown of Midnight and Queen of Shadows are still my favourites in the series so far, but I really did love this one too overall.
Next stop, Tower of Dawn!
---