Already this year has seen some EPIC book releases, such as The Hate U Give by Angie Thomas, Release by Patrick Ness, and the highly anticipated A Court of Wings And Ruin by Sarah J. Maas.
But there's still more to come!
Here are just a selection of titles that you should look out for this month:
---
Flame In The Mist (Flame In The Mist, #1) by Renee Ahdieh – May 16th 2017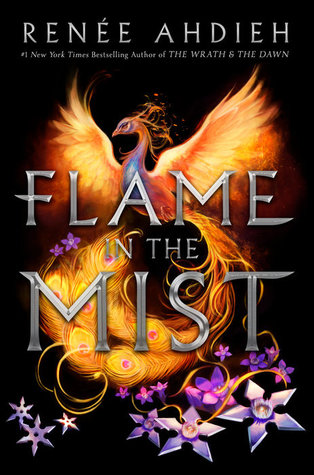 The daughter of a prominent samurai, Mariko has long known her place—she may be an accomplished alchemist, whose cunning rivals that of her brother Kenshin, but because she is not a boy, her future has always been out of her hands. At just seventeen years old, Mariko is promised to Minamoto Raiden, the son of the emperor's favorite consort—a political marriage that will elevate her family's standing. But en route to the imperial city of Inako, Mariko narrowly escapes a bloody ambush by a dangerous gang of bandits known as the Black Clan, who she learns has been hired to kill her before she reaches the palace.
Dressed as a peasant boy, Mariko sets out to infiltrate the Black Clan and track down those responsible for the target on her back. Once she's within their ranks, though, Mariko finds for the first time she's appreciated for her intellect and abilities. She even finds herself falling in love—a love that will force her to question everything she's ever known about her family, her purpose, and her deepest desires. 
Goodreads describes this one as "Mulan meets Throne of Glass"… you need say no more, I'm sold.
It also has an awesomely diverse cast! Woo!
"TOMORROW, tomorrow, it comes out tomorrow!" – those are the lyrics, right?
---
Lord of Shadows (The Dark Artifices, #2) by Cassandra Clare – May 23rd 2017
Emma Carstairs has finally avenged her parents. She thought she'd be at peace. But she is anything but calm. Torn between her desire for her parabatai Julian and her desire to protect him from the brutal consequences of parabatai relationships, she has begun dating his brother, Mark. But Mark has spent the past five years trapped in Faerie; can he ever truly be a Shadowhunter again?
And the faerie courts are not silent. The Unseelie King is tired of the Cold Peace, and will no longer concede to the Shadowhunters' demands. Caught between the demands of faerie and the laws of the Clave, Emma, Julian, and Mark must find a way to come together to defend everything they hold dear—before it's too late.
Confession: I haven't read any Cassandra Clare… but I OWN them all, which means that I'm excited to own this one, so my set remains complete. #bookhoarderproblems
I will read them. One day. I hope.
I know that loads of you guys are super hyped about this one though, which is why it's on my list!
---
When Dimple Met Rishi by Sandhya Menon – May 30th 2017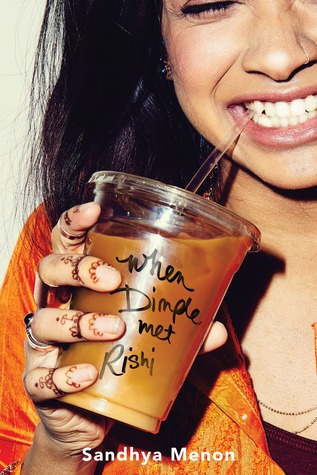 A laugh-out-loud, heartfelt YA romantic comedy, told in alternating perspectives, about two Indian-American teens whose parents have arranged for them to be married.
Dimple Shah has it all figured out. With graduation behind her, she's more than ready for a break from her family, from Mamma's inexplicable obsession with her finding the "Ideal Indian Husband." Ugh. Dimple knows they must respect her principles on some level, though. If they truly believed she needed a husband right now, they wouldn't have paid for her to attend a summer program for aspiring web developers…right?
Rishi Patel is a hopeless romantic. So when his parents tell him that his future wife will be attending the same summer program as him—wherein he'll have to woo her—he's totally on board. Because as silly as it sounds to most people in his life, Rishi wants to be arranged, believes in the power of tradition, stability, and being a part of something much bigger than himself.
The Shahs and Patels didn't mean to start turning the wheels on this "suggested arrangement" so early in their children's lives, but when they noticed them both gravitate toward the same summer program, they figured, Why not?
Dimple and Rishi may think they have each other figured out. But when opposites clash, love works hard to prove itself in the most unexpected ways.
Quite possibly the longest Goodreads synopsis, ever…
I've heard so many wonderful things about this book from the lucky people who've already read it, and I'm super excited to get my hands on it!
It sounds soooo cute, and it's a diverse read – couldn't get any better!
This is one of the few contemporaries on this list, most are fantasy (sorry) so I'm looking forward to the contrast in genre from what I've been reading lately too.
---
One of Us is Lying by Karen M. McManus – May 30th 2017
One of Us Is Lying is the story of what happens when five strangers walk into detention and only four walk out alive. Everyone is a suspect, and everyone has something to hide.
Pay close attention and you might solve this.
On Monday afternoon, five students at Bayview High walk into detention.
Bronwyn, the brain, is Yale-bound and never breaks a rule.
Addy, the beauty, is the picture-perfect homecoming princess.
Nate, the criminal, is already on probation for dealing.
Cooper, the athlete, is the all-star baseball pitcher.
And Simon, the outcast, is the creator of Bayview High's notorious gossip app.
Only, Simon never makes it out of that classroom. Before the end of detention Simon's dead. And according to investigators, his death wasn't an accident. On Monday, he died. But on Tuesday, he'd planned to post juicy reveals about all four of his high-profile classmates, which makes all four of them suspects in his murder. Or are they the perfect patsies for a killer who's still on the loose?
Everyone has secrets, right? What really matters is how far you would go to protect them.
I'm not usually one for thriller/mystery genres, but this sounds so interesting!
Karen M. McManus is also going to be at YALC this year. I'm away, so can't go, but for those of you lucky cherubs with tickets, keep your eyes out for this!
---
Our Dark Duet (Monsters of Verity, #2) by V.E Schwab – June 13th 2017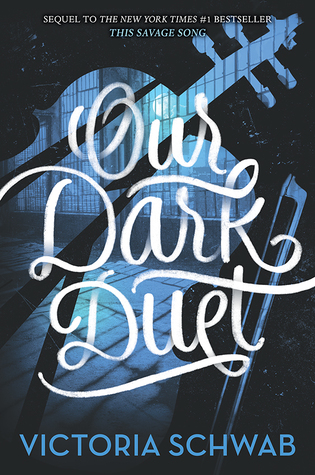 Kate Harker is a girl who isn't afraid of the dark. She's a girl who hunts monsters. And she's good at it. August Flynn is a monster who can never be human, no matter how much he once yearned for it. He's a monster with a part to play. And he will play it, no matter the cost.
Nearly six months after Kate and August were first thrown together, the war between the monsters and the humans is terrifying reality. In Verity, August has become the leader he never wished to be, and in Prosperity, Kate has become the ruthless hunter she knew she could be. When a new monster emerges from the shadows—one who feeds on chaos and brings out its victim's inner demons—it lures Kate home, where she finds more than she bargained for. She'll face a monster she thought she killed, a boy she thought she knew, and a demon all her own.
I know, I know, this is technically June, but it's less than a month until it's released so I figured I wasn't quite cheating by including it!
I'm yet to read This Savage Song, but as soon as this comes out, I'll be binge reading them both!
I love Schwab's writing, so really looking forward to jumping into this world.
---
There are so many more great releases coming out this year, and I've already started making lists of books I can't wait to get a hold of over the next coming months! But these are just my top 5 for May (+1 June…), and I'll definitely be buying them pretty close to their release dates, if not straight away!
Oh my poor, poor TBR I'm so sorry…