Rating: 🌟🌟🌟🌟🌟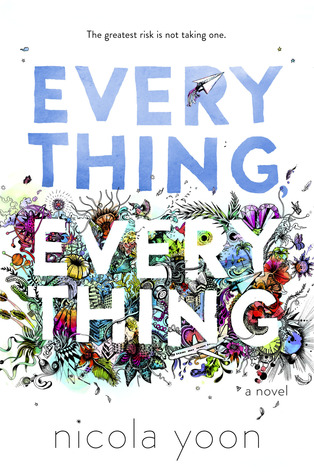 Synopsis: My disease is as rare as it is famous. Basically, I'm allergic to the world. I don't leave my house, have not left my house in seventeen years. The only people I ever see are my mom and my nurse, Carla.
But then one day, a moving truck arrives next door. I look out my window, and I see him. He's tall, lean and wearing all black—black T-shirt, black jeans, black sneakers, and a black knit cap that covers his hair completely. He catches me looking and stares at me. I stare right back. His name is Olly.
Maybe we can't predict the future, but we can predict some things. For example, I am certainly going to fall in love with Olly. It's almost certainly going to be a disaster.
---
It's been a while since I've updated my blog – sorry everyone! I've been going through some personal struggles recently, so I thought it was best for my bookstagram and blog to take a back seat whilst I got myself back up and running.
It's also been a while since I read this book… But it was really great so I still wanted to do a review, so that if you haven't read it, there's another recommendation for you to read and tell you exactly why you SHOULD read it!
---
Firstly, let me just say: a mixed race, female lead character – POWER! In light of this recent *ahem* political twists, it's never been more important to get those voices out there. It's also great that her life is far from perfect, but she defies the odds, finds her strength and kicks ass, despite the consequences it may have, because she's fighting for her happiness and independence. Glorious.
The writing for me, wasn't seamless, but still flowed beautifully. I absolutely flew through it. Time wise it only took me a couple of days, and that was with only a couple of hours reading time available. Had I have had the opportunity, I think I would have devoured it in one sitting.
The romance was beautiful. I have some issues with the whole "love-at-first-sight" concept, and teenagers declaring that they're in love with someone they talk to online, but in this case it really didn't bother me that much. In fact, when things got difficult for them I found myself sobbing just a bit… Shameful.
Now, there's one thing I really dislike about contemporary novels, and that is their abrupt endings. This has that… I just wanted MORE, I mean, why did it just end there? But I guess that just goes to show that I really did love what was written.
If you want a quick, action packed, romance with diversity, twists and turns and lots of household drama, then I urge you to pick up this book.
I can't wait to get my copy of The Sun is Also a Star – I have very high expectations Ms Yoon! ❤️
---
Read it? Let me know your thoughts below.
View Everything, Everything on Goodreads