Rating: 🌟🌟🌟🌟🌟
Synopsis: From the highly acclaimed, multiple award-winning Anthony Doerr, the beautiful, stunningly ambitious instant New York Times bestseller about a blind French girl and a German boy whose paths collide in occupied France as both try to survive the devastation of World War II.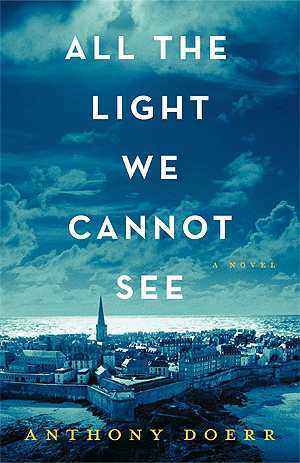 Marie-Laure lives with her father in Paris near the Museum of Natural History, where he works as the master of its thousands of locks. When she is six, Marie-Laure goes blind and her father builds a perfect miniature of their neighborhood so she can memorize it by touch and navigate her way home. When she is twelve, the Nazis occupy Paris and father and daughter flee to the walled citadel of Saint-Malo, where Marie-Laure's reclusive great-uncle lives in a tall house by the sea. With them they carry what might be the museum's most valuable and dangerous jewel.
In a mining town in Germany, the orphan Werner grows up with his younger sister, enchanted by a crude radio they find. Werner becomes an expert at building and fixing these crucial new instruments, a talent that wins him a place at a brutal academy for Hitler Youth, then a special assignment to track the resistance. More and more aware of the human cost of his intelligence, Werner travels through the heart of the war and, finally, into Saint-Malo, where his story and Marie-Laure's converge.
---
Until I picked this up off the "Buy One Get One Half Price" table in Waterstones a few months ago, I had heard nothing about this book. I picked it up, read the blurb and bought it based on the principal of the fact that it was set during the war (this setting always fascinates me). I also saw that it had won the Pulitzer Prize.
HOW HAD I NOT HEARD ANYTHING OF IT?
It wasn't until I actually started reading that I started to see people talk about it. A woman on the train even commented when she saw me reading it, saying how amazing it was. At this point I was only about 50 pages in, and had been struggling to get into it due to being in the biggest slump of all slumps know to readers. It was hard. But the comments of others kept me pushing on.
I am SO glad I persevered with it, because it was totally worth the hype, and rightly deserved to win that award.
"Open your eyes and see what you can with them before they close forever."
The writing all the way through was absolutely stunning, and I honestly cannot fault it. It flowed from pages to page, and I love that it's written from two different perspectives – both the voice of Werner and of Marie are honest, raw and youthful and totally unique from one another. I found myself longing for them to meet the whole way through the book, and then… well I can't give anything else away, because well, spoilers and all that, but it was both magical, heartbreaking and utterly frustrating all at the same time, and I can't get over it!
One of the most significant things about the narrative of this book for me, was reading from the perspective of the blind girl, Marie-Laure. It was fascinating to experience the world from someone who cannot see any of it. Everything was so incredibly detailed and intense without having to know exactly what it looked like. Reading of how it smells, feels and sounds painted an unbelievably intense and gripping setting that a simple description of sight could not have even come close to replicating in such a stunning way.
Being taken through these characters' entire lives, from beginning to end with such a resolute and conclusive ending made me feel as though they were a part of my own life, and I felt everything that they felt. It was incredibly bittersweet and I actually feel as though a tiny little part of me is missing now that I've finished it!
This book was beautiful inside and out. And I mean that because the cover is gorgeous too…
A historic fiction novel that is sure to make history – I urge anyone who hasn't already to read this book, because it will seriously change the way that you look at the world. I know for one that I am so much more appreciative and aware of the beauties that the world around me holds.
Anthony Doerr, if by any miracle you read this, thank you for writing this book.
---
View All The Light We Cannot See on Goodreads.