Overall Rating: 🌟🌟🌟🌟🌟
---
Shadow and Bone: 🌟🌟🌟🌟🌟
Synopsis:
Surrounded by enemies, the once-great nation of Ravka has been torn in two by the Shadow Fold, a swath of near impenetrable darkness crawling with monsters who feast on human flesh. Now its fate may rest on the shoulders of one lonely refugee.
Alina Starkov has never been good at anything. But when her regiment is attacked on the Fold and her best friend is brutally injured, Alina reveals a dormant power that saves his life—a power that could be the key to setting her war-ravaged country free. Wrenched from everything she knows, Alina is whisked away to the royal court to be trained as a member of the Grisha, the magical elite led by the mysterious Darkling.
Yet nothing in this lavish world is what it seems. With darkness looming and an entire kingdom depending on her untamed power, Alina will have to confront the secrets of the Grisha . . . and the secrets of her heart.
---
This was the perfect start to a trilogy for me. There was drama in abundance, the world building was fabulous, and I found myself rooting for the… villain?
Wait, what?
Okay, so this never happens for me. I always side with the hero. But The Darkling really had me going in this one! I found his character extremely intriguing and misunderstood which made me just kind of want him to succeed…
So this is making me sound a bit weird, but I'm sure those of you who have read this know what I mean?!
Of course, I still like Alina, and I find the magic in this book really fascinating and how each Grisha only has one skill rather than being able to wield them all.
There wasn't really a cliffhanger at the end of this book which compelled me to move straight on to the next, but after reading another completely different book after this, I found myself wanting to come back into this world and read Siege and Storm.
---
Siege and Storm: 🌟🌟🌟🌟🌟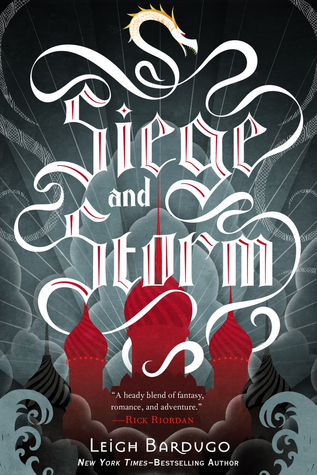 Synopsis:
Hunted across the True Sea, haunted by the lives she took on the Fold, Alina must try to make a life with Mal in an unfamiliar land. She finds starting new is not easy while keeping her identity as the Sun Summoner a secret. She can't outrun her past or her destiny for long.
The Darkling has emerged from the Shadow Fold with a terrifying new power and a dangerous plan that will test the very boundaries of the natural world. With the help of a notorious privateer, Alina returns to the country she abandoned, determined to fight the forces gathering against Ravka. But as her power grows, Alina slips deeper into the Darkling's game of forbidden magic, and farther away from Mal. Somehow, she will have to choose between her country, her power, and the love she always thought would guide her–or risk losing everything to the oncoming storm.
I was worried that I was going to hate this book… Usually second books in a series just don't work out for me. But, I LOVED IT! It was even better than the first book. I found the world developed even further, the characters became a whole lot more rounded, and those plot twists… well, I need say no more.
---
Nikolai is officially my favourite character.
He's a total douche-bag but still incredibly charming, and deep down an absolute sweetheart.
The opening chapters of this book couldn't have been any more dramatic if they tried. Like, sure fire way to suck you in!
The middle was maybe a little slow for my liking, but I really enjoyed getting to know all of the characters a bit more, and then the ending came… WAY TO CRUSH MY SOUL.
Where the first book didn't end on much of a cliffhanger, this one did. To the point where EVERYONE could have been dead.
Safe to say I started Ruin and Rising right away…
---
Ruin and Rising: 🌟🌟🌟🌟.5
Synopsis:
The Darkling rules Ravka from his shadow throne.
Now the nation's fate rests with a broken Sun Summoner, a disgraced tracker, and the shattered remnants of a once-great magical army.
Deep in an ancient network of tunnels and caverns, a weakened Alina must submit to the dubious protection of the Apparat and the zealots who worship her as a Saint. Yet her plans lie elsewhere, with the hunt for the elusive firebird and the hope that an outlaw prince still survives.
Alina will have to forge new alliances and put aside old rivalries as she and Mal race to find the last of Morozova's amplifiers. But as she begins to unravel the Darkling's secrets, she reveals a past that will forever alter her understanding of the bond they share and the power she wields. The firebird is the one thing that stands between Ravka and destruction—and claiming it could cost Alina the very future she's fighting for.
---
This book took my breath away. Everything about it was just wonderful.
Nikolai broke my heart.
Mal broke my heart.
The Darkling broke my heart.
Did I mention that it broke my heart…?
No? Well it did.
The only thing I would say is that a power hungry Alina started to annoy me a bit… I didn't really care whether she succeeded in her quest because I found her extremely selfish by about the halfway point. But I really, truly did ship "Malina" in this one, and the ending just had me bawling.
I wish the ending hadn't have had a change of heart, because I don't think everything needed to end so happy-clappy. I did still love it however.
---
The main reason I ended up reading this trilogy, is because I read Six of Crows earlier this year, and didn't love it as much as people had hyped. So figured that reading this trilogy would give me a bit more background info about the world and history of Ravka, and then I'd give Six of Crows another shot.
I have to say, I am excited to re-read Six of Crows now, because I really do feel like I'll enjoy it much more the second time round after reading this.
Also… I CAN'T WAIT FOR NIKOLAI'S BOOK!